The first place most people turn to for fat loss advice is a dietician or nutritionist. Rarely, if ever do they think of turning to someone in the body building industry – and yet, this is a very good place to go because you from looking at them that body builders know how to lose fat and build muscle.
If you don't believe me, just look around your local gym and you'll notice that the body builders have got the leanest figures. Their physique has as much to do with their diet as with their weight training program.
When you go to a body builder for dietary information you won't be directed to a picture of a pyramid or the plate filled with bread and pasta. What you'll get is straight-down-the-line, commonsense advice about which foods to eat to burn fat and build muscle.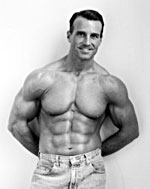 To that end I recommend you get a copy of Tom Venuto's program 'Burn the Fat, Feed the Muscle'.
Tom is a body builder and you only have to look at him to see that when he writes about how to maintain and ideal weight and build muscles he knows what he's talking about and practices what he preaches.
We take too little dietary advice from body builders. While academic dieticians are doing busy-work and writing research papers, the community is getting fatter, faster.
But the results are in. You can put down the glasses. Eat and train like body builders eat and train and you'll nourish the cells of your body and maintain an ideal weight.
Body type diet
In 'Burn the Fat, Feed the Muscle' Tom provides his readers with a highly personalized approach to weight loss. The program is basically a body type diet, based on the premise that people of different body types process foods in different ways. For example, one body type might do better on a diet heavy in complex carbohydrates, while another body type might need a much lower carb intake in order to flourish.
Tom lays out a comprehensive guide to help you determine the best way for you to achieve your weight loss and body image goals.
His system teaches you how to determine which body type you are. Then he provides you with the information you need to design your own diet and fitness plan based on your body type. As you progress, you can adjust your calorie intake and nutrition as needed. This highly personalized plan is designed to help you lose more weight than in a generic diet program.
'Burn the Fat, Feed the Muscle' – the nuts and bolts of eating wisely
Tom Venuto's eating system contains the nuts and bolts of eating wisely. He delves into the facts about macronutrients and vitamins, which is more than you can say about the dietary guidelines published by governments around the world.
After sales service!
Besides the book, you can subscribe to Tom's website and obtain regular information and reviews through his regular newsletter. Treat this as the sort of after sales service you won't get from your doctor.
Think about it, how long it is since you received a newsletter from your doctor, or some useful information about performance enhancing supplements, or what you can do to avoid the latest epidemic swirling around the surgery?
With Tom, if you like what you get you'll sign up for his bonuses. His web site will provide months of original information to keep you motivated and eating wisely. His web site features a lot of useful stuff, like calculators, recipes, and product reviews. The message forums are active and filled with answers and advice.
A word of warning
The amount of information will be valuable to anyone who wants to reshape their life and body. But you'll only get something out of it if you're fair dinkum about turning your body into something you can be proud of. If you're a tyre kicker, or ice cream licker save your money.
'Burn the Fat, Feed the Muscle' is 341 pages long! That's not including the many extras you get with the package, and the ones you can purchase separately.
Also, being a bodybuilder, Venuto writes like a bodybuilder. This is insider information you won't get from the Women's Weekly or the Heart Foundation. Tom emphasizes the importance of attaining a low percent body fat. You'll find he's a straight shooting, no-beating-around-the-bush sort of a guy. You're going to get straight forward information that you can grab hold of and run with.
Having said that and despite the importance of exercise in weight loss and bodybuilding, Venuto devotes most of his pages to nutrition facts. The cardio exercise and weight training are given about 25 pages apiece. Most of the exercise information in books written by dieticians is vapid and unscientific. If you want to know how to build up muscle mass and reduce body fat, ask a body builder, do what a body builder does. Become a body builder and build up your body.
A quick word of advice. Unless they've got 20 hours a week to spend slaving away at some highly specialized routine, all that's going to happen to most people who do some body building is that they're going to end up nicely toned. And that's how you want to be, nicely toned and strong enough to do everyday tasks without breaking down.
On the question of breaking down, few people understand that one of the important roles that muscles play is to keep your bones in good alignment. So a muscle strengthening and toning program is going to rid you of a lot of aches and pains.
Another thing most people are unaware of is that if you want to see nicely cut muscles or a six pack you have to exercise your muscles sufficiently, but importantly, you have to get rid of the fat that covers them up.
This is where Tom comes in, the correct nutrition, plus the correct exercise leads to a body that's fit and healthy and one you're proud you're living in.
If you've ever wondered about weightlifting, you'll probably find the answers to your questions in the weightlifting FAQ.
The Bottom Line
If you want to burn fat and feed muscle you'll get good value out of Tom Venuto's program and his ongoing support. Tom's detailed approach to weight loss has helped thousands of people achieve their weight loss and body image goals.
'Burn the Fat, Feed the Muscle' shines as a guiding light to building your best body.
In the meantime stay tuned highly tuned and if you eat and exercise the way Tom Venuto does, you'll achieve your weight and body image goals.
John Miller